Ollie gets to choose how he wants to feel and what super powers will be best at getting him through his day. We all have lots of emotions or super powers. Ollie teaches us to control which ones we use and when. He teaches us to understand why we feel what we feel so that we can decide if we really want to feel that way or feel something else.
How Ollie therapy and coaching can help kids, parents and schools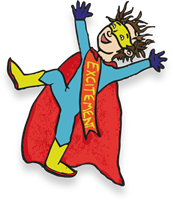 One to one sessions for kids 
Workshop for parents & caregivers
Testimonials from Happy parents
Thank you, I brought your book on Amazon and Ellie and I are taking the Ollie journey together. As you know she had developed a fear of swimming – or so we thought but by following your kind instructions we got fear out and sat her in my hand and had a chat with her. We now know it's not swimming it's the changing rooms and not being comfortable with her physical self around the other girls! So we asked fear what would make it better and fear said through my little girl that she would be happier in a cubical. Ellie is back loving swimming and so very much happier! Thank you so very much Ollie and Ali! I am recommending your books to everyone – this is such a brilliant tool to have as a parent.
Lynnette x
The Ollie and His Superpowers approach have done their magic again!
A testimonial from a very happy Dad
"My Daughter had a number of issues which were causing her have very restless nights, sleeping and causing her eczema to flair up. She would scratch her skin till she started to bleed.
We were back and fowards to her GP for well over a year and she was prescribed various creams to help with her skin condition. These creams never helped with the underlying cause and they didn't help break her habit of scratching.
After talking with Barbara about it she told me she was confident she could help by using Ollie and his superpowers. My daughter and I read the book we got from Barbara together and after the 1st session the habit of scratching had gone. I expected it to work but I was shocked at how quickly it worked!
My daughter had few more sessions and they made a huge difference, I saw a change in her in the way she handles all her emotions, she has grown in confidence, become less afraid and now sleeps through the night with no problems at all.
She still asks about Barbara and Ollie and talks about how she enjoyed the time when she would go to 'play' with Ollie. Barbara has a wonderful and friendly approach which enables her to build a great rapport with children, making the Ollie sessions not only fun but really effective too".
A few months ago, life at home was not good. Being a single parent is tough but when your 5 year old's behaviour is monumentally challenging on top of that, it can feel like there is no hope. I used to dread going home after work and the thought of weekends together would terrify me.
The only moment of pleasure together was when we read a story together at bedtime. Knowing this, I used the story of 'Ollie & his Superpowers' to see if it could help us to both understand the behaviour and find strategies to manage the emotional outbursts.
My son loved the story from the start and really identified with Ollie. We talked a lot about the story and we talked about how we feel when we get angry or cross or sad…the real turning point was one evening when he was having a bath. He was getting very angry about having to get out and was screaming, hitting, throwing water and being very abusive. So I asked him what superpowers he was using…he told me 'Anger'. I got him to draw anger on the shower-screen and he made him really big! I reminded him about Ollie and how he was able to grow and shrink his superpowers and without me telling him, my son started to draw his 'Anger' again but smaller. He kept doing this until 'Anger' disappeared totally. I asked him how he felt now and he said 'Happy'. It was the first time in a long time that I had been able to diffuse a potentially awful night without the use of threats or bribes.
I have carried on using the growing and shrinking principle and life at home is transformed. There are still difficult moments but they are just that. Moments. I no longer dread going home. I look forward to the weekends.
There is still work to do but my son is visibly calmer and much more able to self-regulate his emotions.
OLLIE HAS SUPERPOWERS FOR ALL OF HIS EMOTIONS. HAPPY, SAD, BRAVERY, COURAGE; ALL THERE FOR WHEN HE NEEDS TO USE THEM.